Agriculture/Commercial Glass Greenhouse for Planting/Flowers/Eco Hotels Dsecription:
No.1 Venlo Type
Venlo structure mainly includes the greenhouse fundamental, the hot-dip galvanized steel structure and the aluminum alloy structure.
Venlo type glass greenhouse uses 8mm or 10mm hollow glass profiles or single glass profiles as its cover material. The glass has more than 90% light transmittance rate. It is in strong strength resistance and strong anti-age performance. It also has a long service time. Besides, it looks very beautiful from the appearance of the whole greenhouse.
.
Glass greenhouse usually used for planting high-grade flowers, fruits and vegetables, scientific research, ecological restaurant, flower market, tourism exhibition, special cultivation etc..
No.2 Technical Parameters
| | |
| --- | --- |
| Company | Zenong Greenhouse |
| Model No. | Venlo Type G3 |
| Span | 9.6m/10.8m/12m |
| Eaves Height | 3-6m |
| Glass Type | Hollow Glass, Single Glass |
| Wind load | 0.5KN |
| Snow load | 0.5KN |
| Column Space | 4m,8m |
| Frame Structure | Galvanized Steel |
| Light Transmittance Rate | >90% |
| Transport Package | Carton Packaging, Bundles |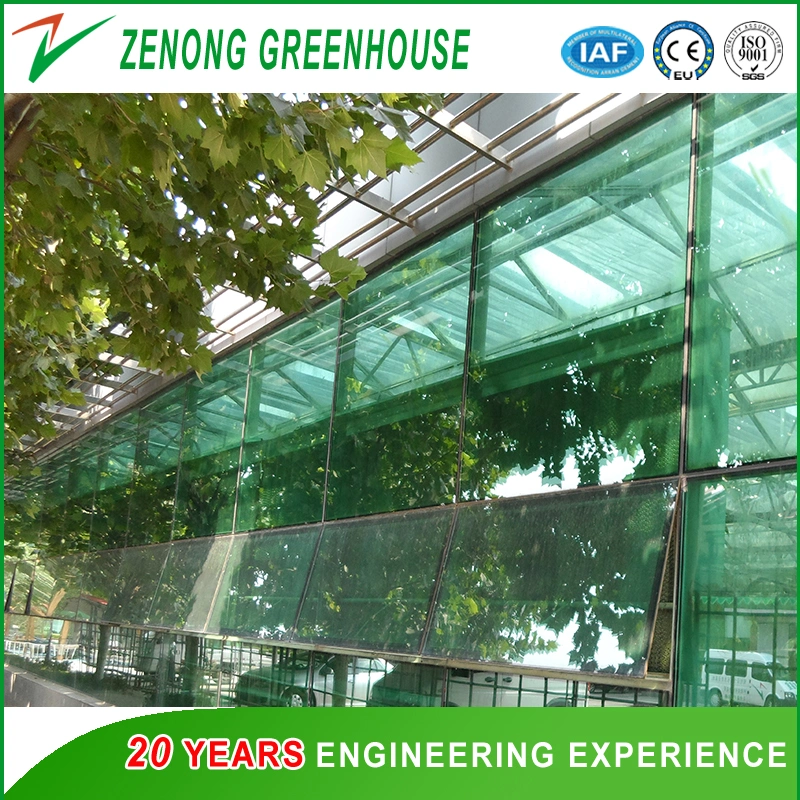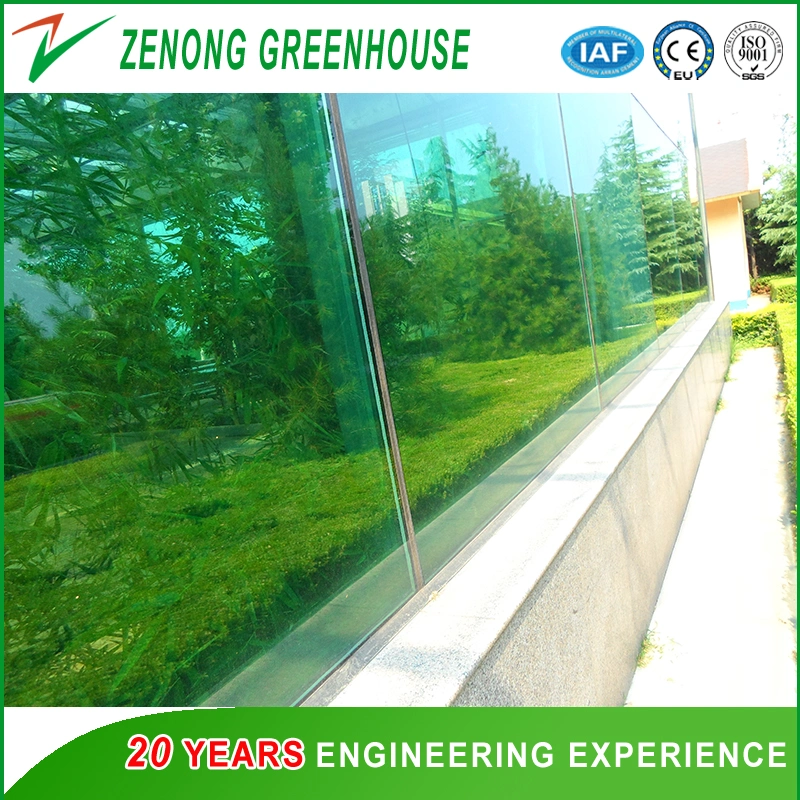 No.3 Advantages of Glass Greenhouse:
Light transmittance is high, no water vapor, good ageing resistance, anti condensation and heating fast.
The light transmittance of single float glass is more than 90%, double hollow one is more than 80%, which is stable and will not decline over time.

Glass greenhouse always has long service life and large operation space. In where has low light but great geothermal energy or waste heat, it could be a good choice. But it need large investment and high level of management.
No.4 Greenhouse Major Equipments: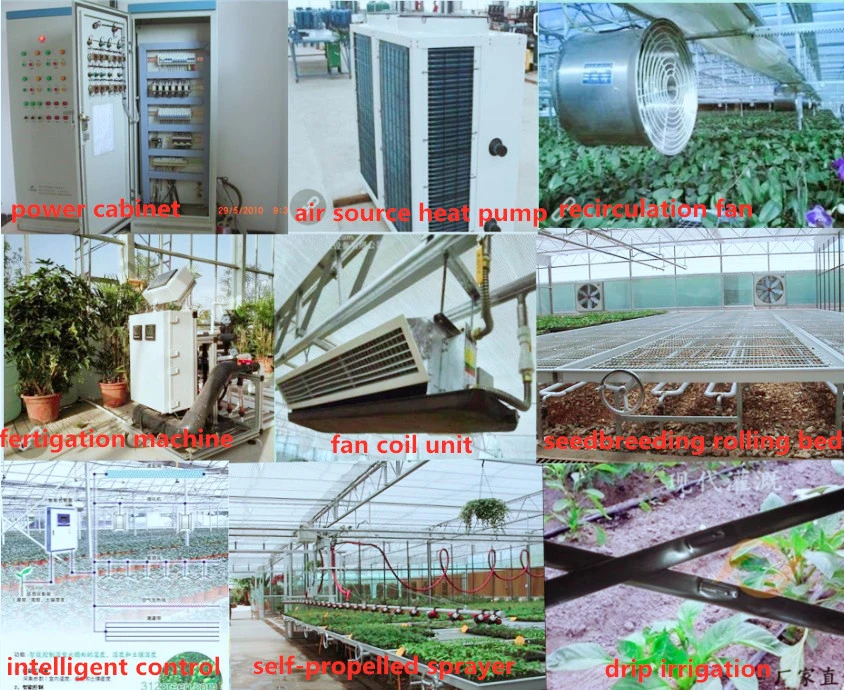 Greenhouse Shading System:

1. Outside Shading system
The main function of the system is shading and cooling in summer and making sunshine diffuse in greenhouse and preventing crops from strong light burning. Because of blocking a lot of light to enter, it reduces internal heat accumulation of greeenhouse effectively. Generally, it can reduce greenhouse temperature by 4-6ºC Ultroviolet resistant, anti hail and reduce harm from the top curtain of different sunshade rates is selected for different crops which needs a variety of sunlight shading:summer by closing the curtain can effectively refelect off part of the sun,which can reduce the greenhouse teperature by four to six degrees Celsius.
2. Inside Shading System
Fog prevention and drip prevention:when internal sunshade system is closed,two independent spaces are formed that prevent fog and dip formation inside.
Energy saving and eco frendily:effective inner heat can be overspill through heat transmission or exchange, and therefore to reduce energy cost
Watering saving:Glass greenhouse can effectviely reduce crops and soil evapporation that can keep the air humidity. And therefore, water for irrigation is saved.

Greenhouse Cooling system

Use evaporation cooling principle of water to realize cooling. There is a specially-made hydrophobic wet pad wall. When the air penetrates wet curtain medium, it conducts heat exchange with vapor on moist medium surface so as to realize humidification and cooling for the air.

1)Wet Pad
It consists wet pad, aluminum alloy frame and wet pad water system.
2) Fan
Size:1380*1380 or 1250*1250

Irrigation and fertilization system;

1. Irrigation and fertilization water treatment system with reasonalbe design improves absorption function of crops toward fertilizer.Meanwhile, it improves crop quality
2. It is especially suitable for area with poor water quality and crop greenhouse which has high requirements for planting water quality
3. The advcanced treatment process is combined with greenhouse production process effectively.

Greenhouse Ventilation System:
Greenhouse ventilation system can be divided into two kinds of ventilation systems. One is continuous ventilation system and the other is interlacing ventilation system. Both of these two kinds of ventilation systems are now widely used in agricultural planting, sightseeing and entertainment and other fields.

Automatic control system and so on.

No.5 Packing&Shipping

The delivery time depends on details of the greenhouse project such as type,size,supporting systems etc.We will arrange production and delivery after all the information confirmed,and we will make strong packing to ensure the goods remain intact when reaching the destination.

No.6 About Our Company:

Shouguang Zenong Greenhouse Engineering Co.,Ltd
Shouguang is an ancient city with a long history. In the early 1980s and late 1990s of reform and opening up, Sanyuan Zhu, who took Wang Leyi as the leader, set off an agricultural revolution. Shouguang Vegetable Shed has been well-known throughout the country since then. Zenong Greenhouse Engineering Co., Ltd. is located in this city with the reputation of vegetable town. Shouguang Zenong Greenhouse Engineering Co., Ltd. is a specialized greenhouse engineering company which integrates design, production and installation. The company covers an area of more than 20,000 square meters, and the construction area of the agricultural park is 25,000 square meters. The engineering workshop has four top-level greenhouse skeleton production lines in China. The annual output of the company is about 150,000 tons of high-quality galvanized skeleton accessories. The company has more than 100 employees, 90% of them have bachelors degree or above. All production and installation workers are trained professionally. They are a high-quality workforce with good adaptability to the new economy. The company has always insisted on technological innovation as the guide, relying on excellent product quality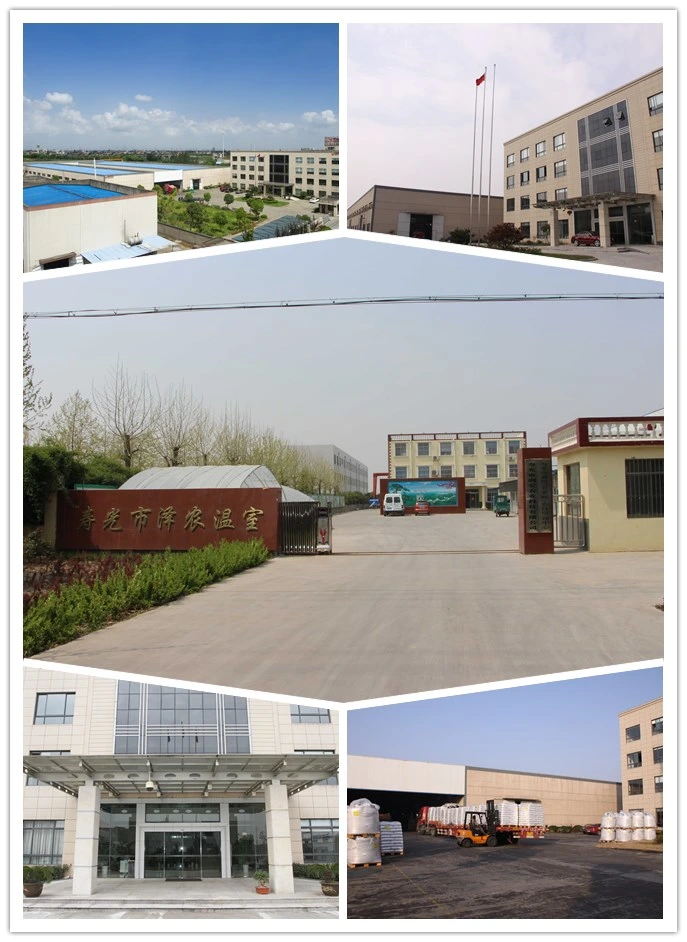 Workshops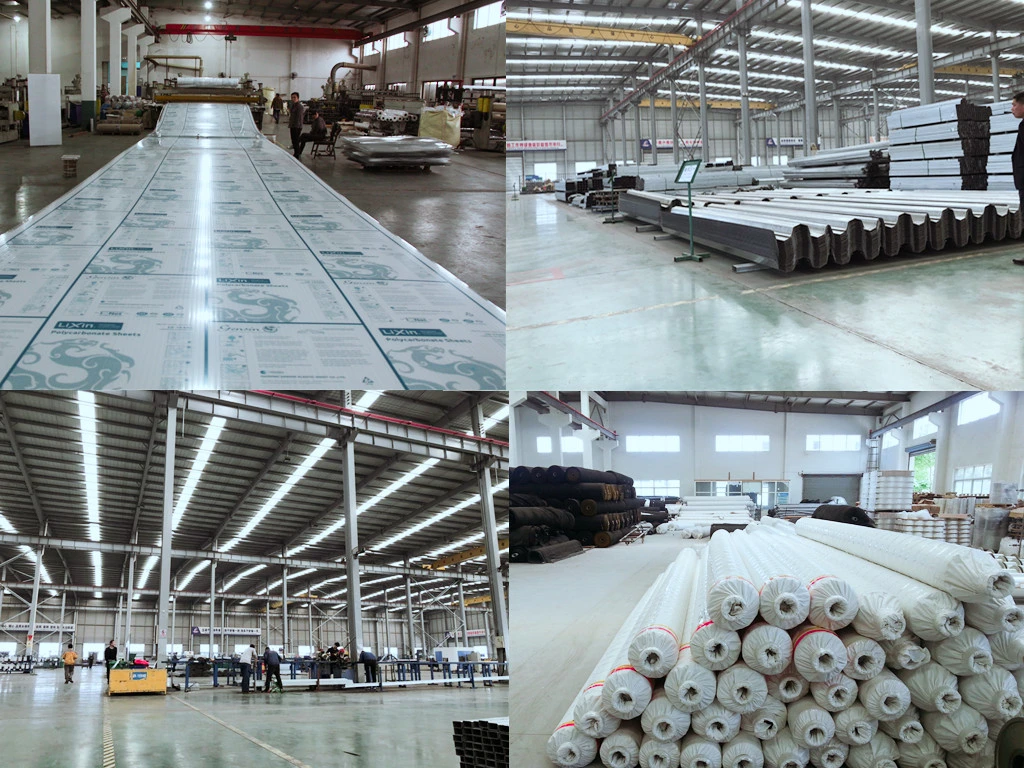 Greenhouse Frames and Covering Materials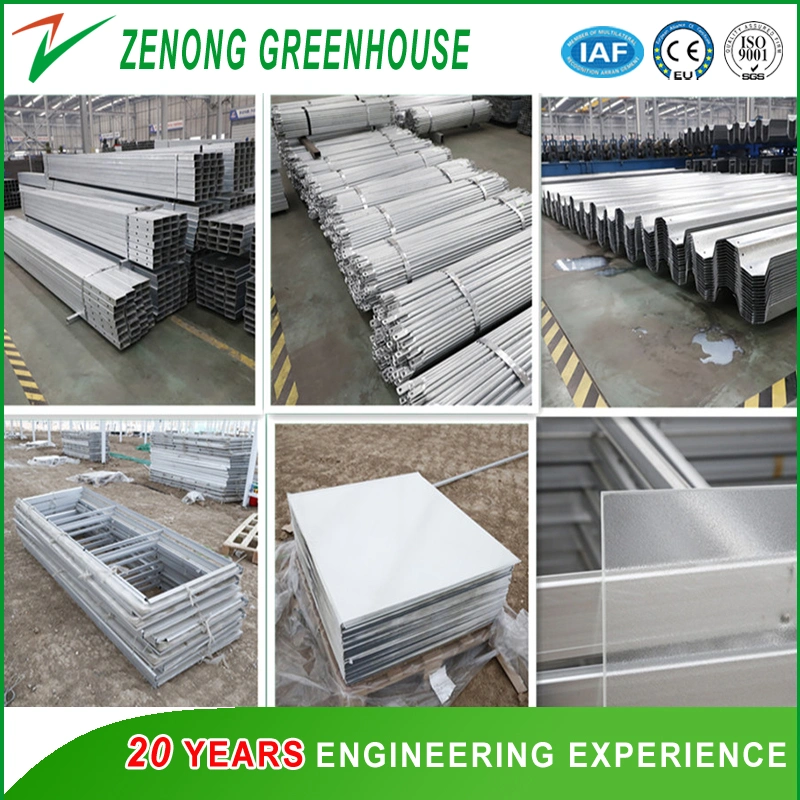 Related Products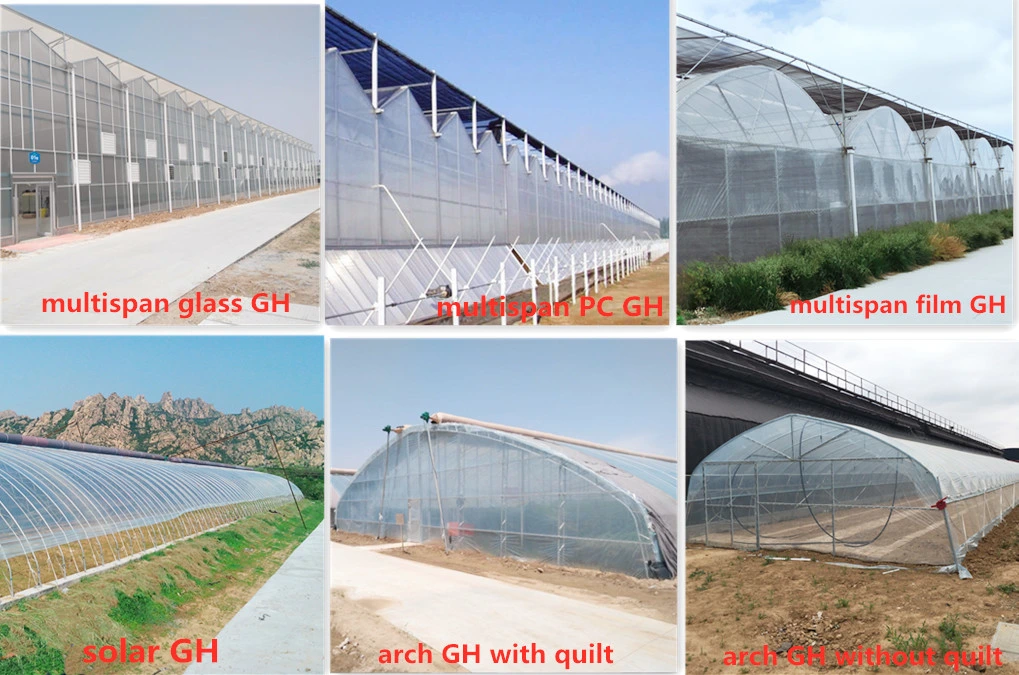 No.7 Foreign Clients Visit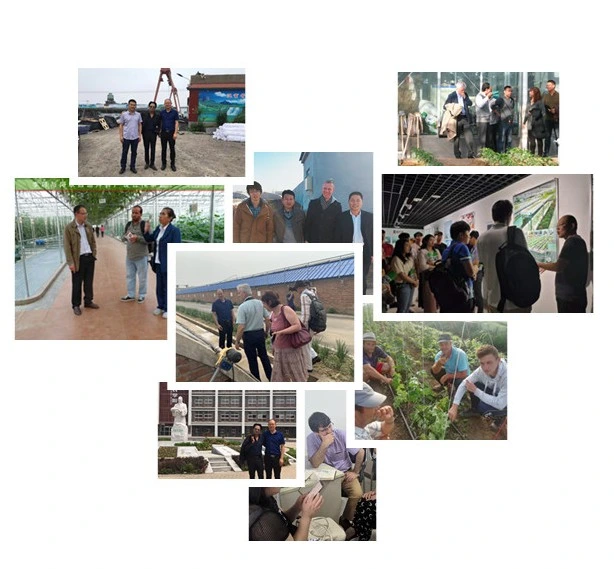 No.8 Our Service

* Pre-sale Service
1. We design free drawing according to customers' requests by engineers with rich experiences
2. We offer professional advices according to the local area conditions.
3. We arrange transportation affairs.

* Construction Stage
1. We supply you with detailed construction drawings to guide.
2. We send one engineer to your local area for installation.
3. We provide related production for your references.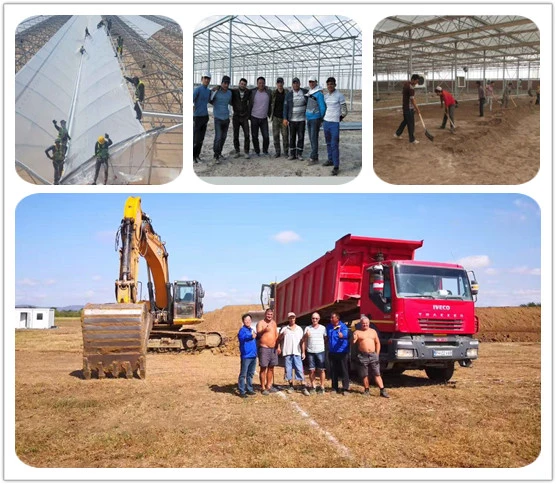 * After-sale Service
1. We offer reasonable advices for usage, maintenance and technically improve.
2. We have planting techincians instructing following plants growing issues.
3. We have on-line service.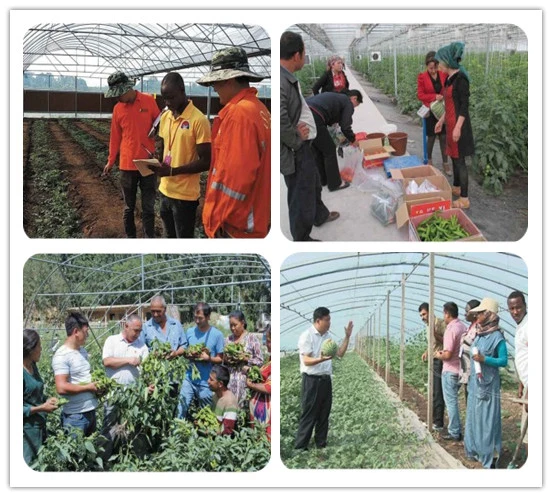 No.9 FAQ
1.You are manufacture factory or trading company?
A: We are an engineering company with 20 years of experience. We have our own exporting department. In the past 20 years, more than 1000 projcets were performed and constructed by our company. Complete greenhouse projects in the hand of one company saves time and money. And you are welcomed to visit us. Your satisfaction is our greatest success.

2.Is your price competitive with other companies?
A: Our business objectives are to give the best price with same quality and best quality with the same price. We will do everything we can to reduce your cost.

3.Do you offer service for installation?
A: We will give detailed installation drawings and direction info for free. And we could send engineers as installation director even a team.

4.Do you accept container loading inspection?
A: You are welcomed to send an inspector, not only for the container loading, but any time during the production time.