Venlo Glass Greenhouse for Planting/Farm/Aquaculture/Livestock Breeding/Ecological Restaurant
Weifang Jianda Greenhouse material Co,.Ltd is located in qingzhou city,Shandong province,China. Our company is l

arge agricultural greenhouse group. Our products including greenhouse

framework,hollow glass, float glass or PC sheet, outside shading system, inside shading System, cooling system, heating system,ventilation system, mobile seedbed system, electric control system, etc.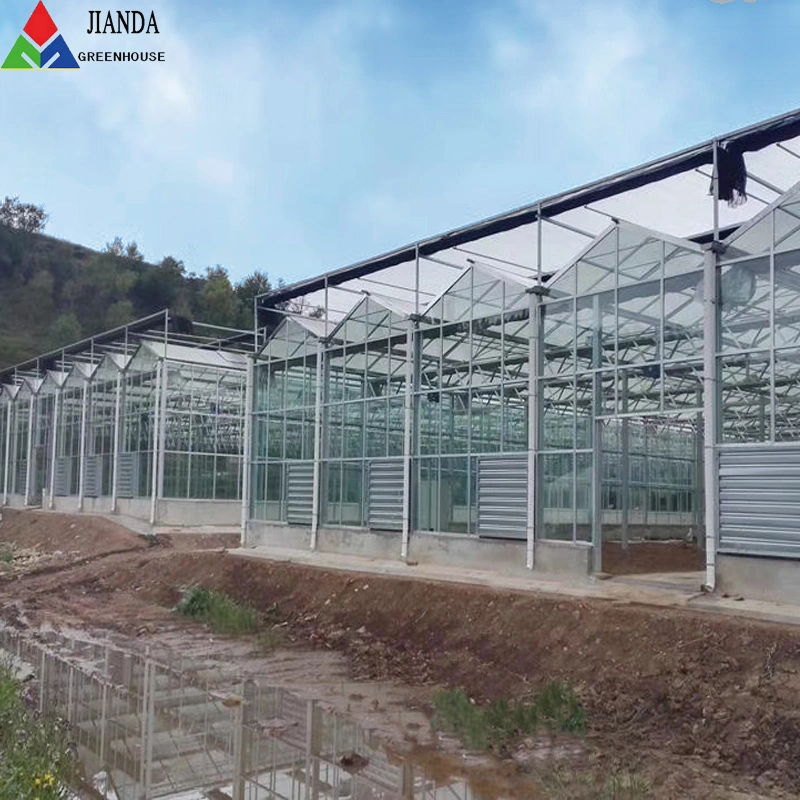 1.
Film
GREEN HOUSE
for JDWS brand

INTRODUCTION
The skeleton materials of the greenhouse is made by galvanized steel materials,
connected by galvanized and anti-rot bolts and screws, no welded point. And the
Greenhouse can be used for exhibition, seed-breeding, flower or vegetable
market or mall, ecological restaurant, teaching or scientific research, etc.
multi span film
GREENHOUSE SUPPORTING SYSTEM
Outside Shading System, Inside Shading System, Cooling System, Heating System, Ventilation System, Seedbed System, Etc.
1

Outside shading system

Sunshade net has different light
transmission

2

Inner warming system

Install a thin film inside the
greenhouse. it can keep warm.

3

cooling system

Cooling fans and cooling pad

4

Heating system

1. Boiler warming: boiler and water warming blower.
The boiler type has gas boiler, coal boiler, oil boiler and bio fuel boiler, and gas/oil boiler.
2. Electric warming: only has electric warming blower

5

Ventilation system

Top & side window

6

Irrigation and fertilization system

drip irrigation or spray irrigation

7

Light compensating system

High - pressure sodium lamp, or LED lamp

8

Seedling bed system

Used for seeding

8

Soilless culture

Hydroponic, nutrient, etc...

9

Power distribution system

control cabinet

10

Other equipment

We can supply other planting material.
A.
.multi span green house
Outside Shading System, Inside Shading System.
Internal shading:Setting internal shading is an effective way to save energy, shade, temperature and humidity.The unique advantage of the shading curtain is that it will reflect the sun rather than absorb sunlight, effectively reduce the greenhouse light, while reducing the temperature of crops and air.Unique thermal radiation barrier materials outside greenhouse emission, can keep the curtain under the heat is not lost.Close the sunshade curtain will increase the humidity indoor temperature rapidly.At the same time, sunshade of lower surface heat radiation transmitted from the greenhouse has good absorption ability, the curtain can maintain high temperature.High temperature curtain can prevent condensation, to avoid the condensed water surface under the curtain.
Outside shading:In summer, the solar radiation heat load is too high,when the external shading system is used, the indoor temperature can be controlled to be only 1ºChigher than that of the outdoor room in a well ventilated greenhouse due to the blocking of most of the solar radiation into the greenhouse.If combined with wet curtain fan system, can create an ideal temperature and humidity environment, reduce greenhouse operation costs, saving energy consumption.
B:
.multi span green house
Cooling System, Heating System, Ventilation System
C:
.multi span film green house
Seedbed System
Seedbed system of greenhouse includes fixed seedbed and mobile seedned. The fixed seedbed is single-layer, angel steel as the support, steel wire mesh set on the surface. The support of mobile seedbed is made by galvanized steel tubes, outline of the seedbed aluminum-alloy material. The surface of the mesh applies the anti-corrosive treatment by the cladding layer. The seedbed system can promote the utilization rate effectively of the greenhouse, usually up to about 85%

D:film green house power distribution system
Control System of greenhouse is a kind of environmental automatic control system that is designed for the agricultural greenhouse, agriculture environmental control and weather observation, able to measure a lot of agricultural factors such as direction and speed of wind, temperature and humidity of air or soil, air pressure, rainfall, solar radiant quantity and ultraviolet intensity, etc. It can control the facilities of ventilation system, shading system, cooling system, illumination supplement, irrigation and fertilization, adjusting the inner environment of the greenhouse to the most suitable conditions.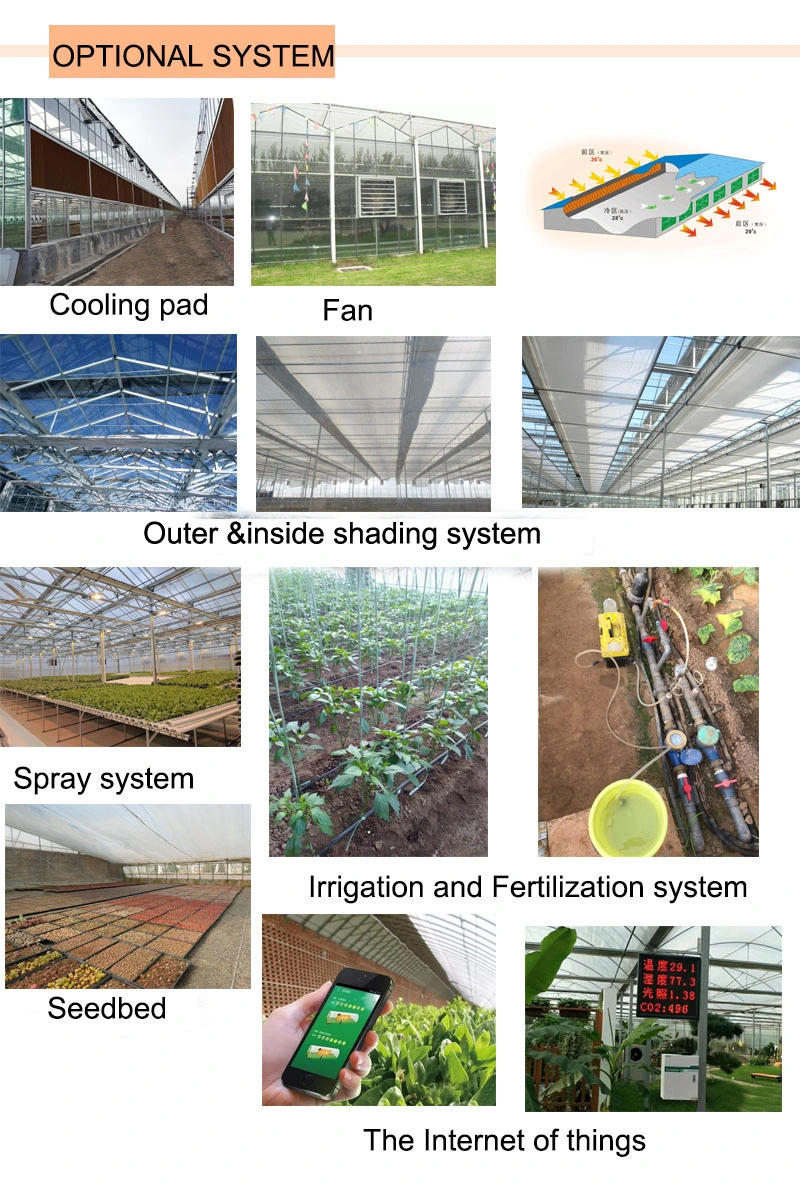 3.OUR FACTORY
We are one of leader of greenhouse manufacture, can make all kinds of greenhouse parts.
We are majoring on the greenhouse materials manufacture, sales and technical services. We are engaging in the advanced greenhouse projects and designing. More and more companies have built up cooperation with our company based on the advantages of the quality and price of our products.
Our operation principle is "Continuous Creation of Value for Our Clients". We are making persistent efforts based on the demands from our clients, and promoting quality of the products and reducing the costs continuously, so as to supply products of high performances cost ratio.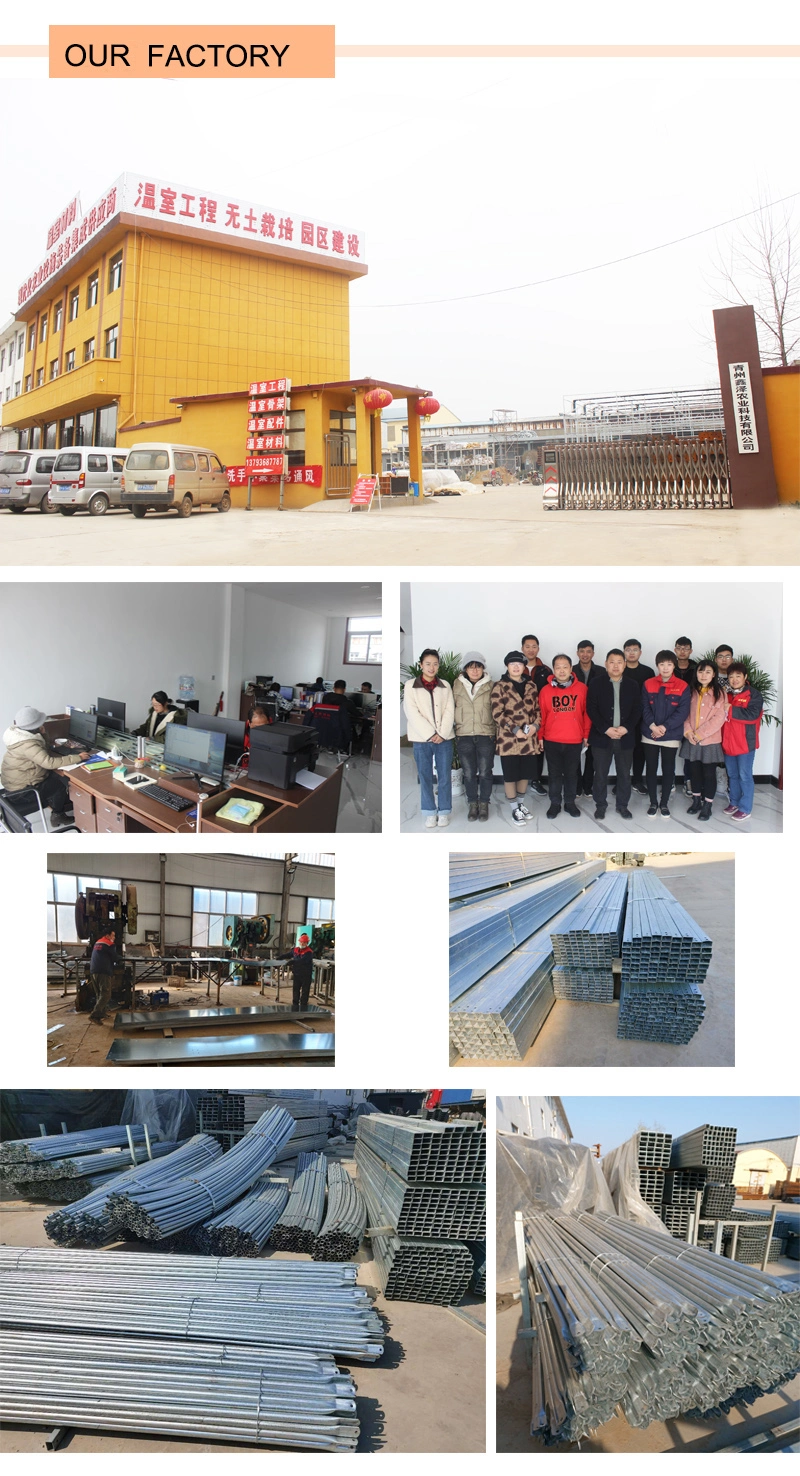 4. CUSTOMERS VISITING
Our customers from over the world, we always provide the best greenhouse solutions for our customers in last 10 years.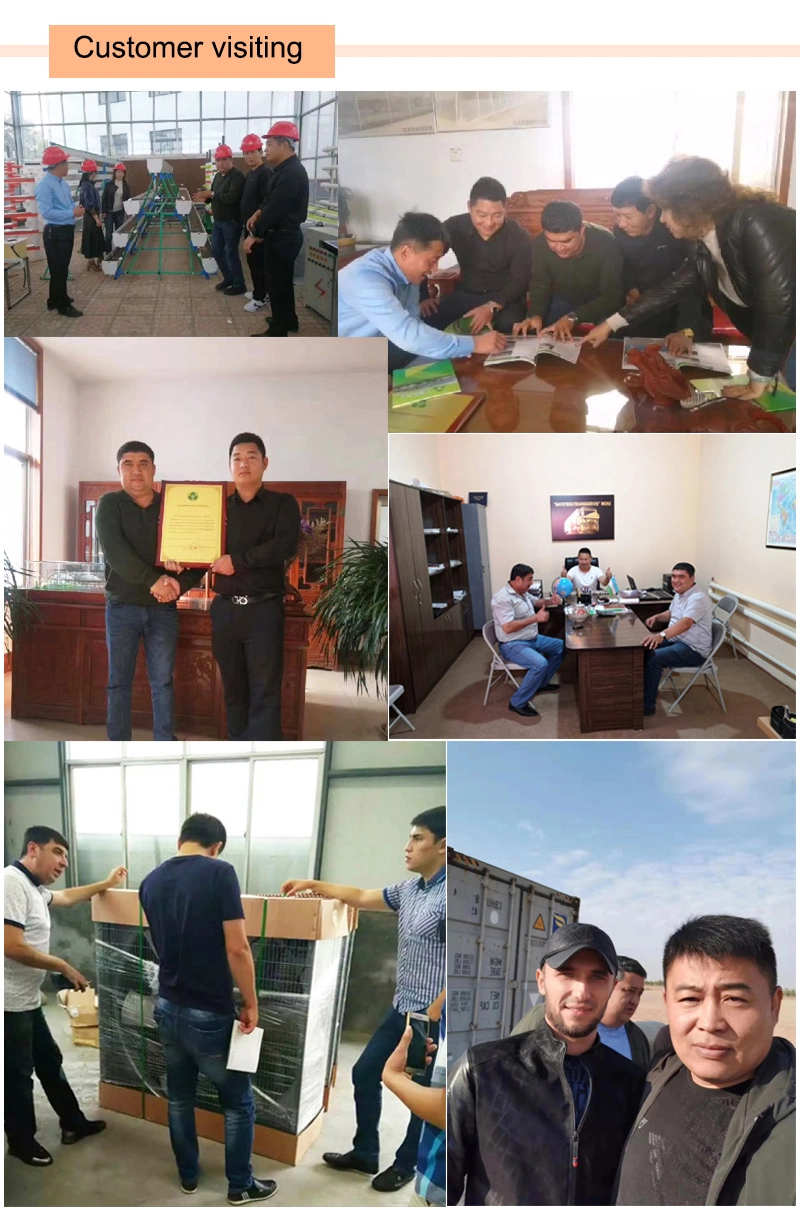 5.PACKAGING &SHIPMENT
Delivery on time to meet customer requirments is our factory culture.
6.Greenhouse Accessories
Our factory manufacture greenhouse and provide the greenhouse accessories and equipments to the customers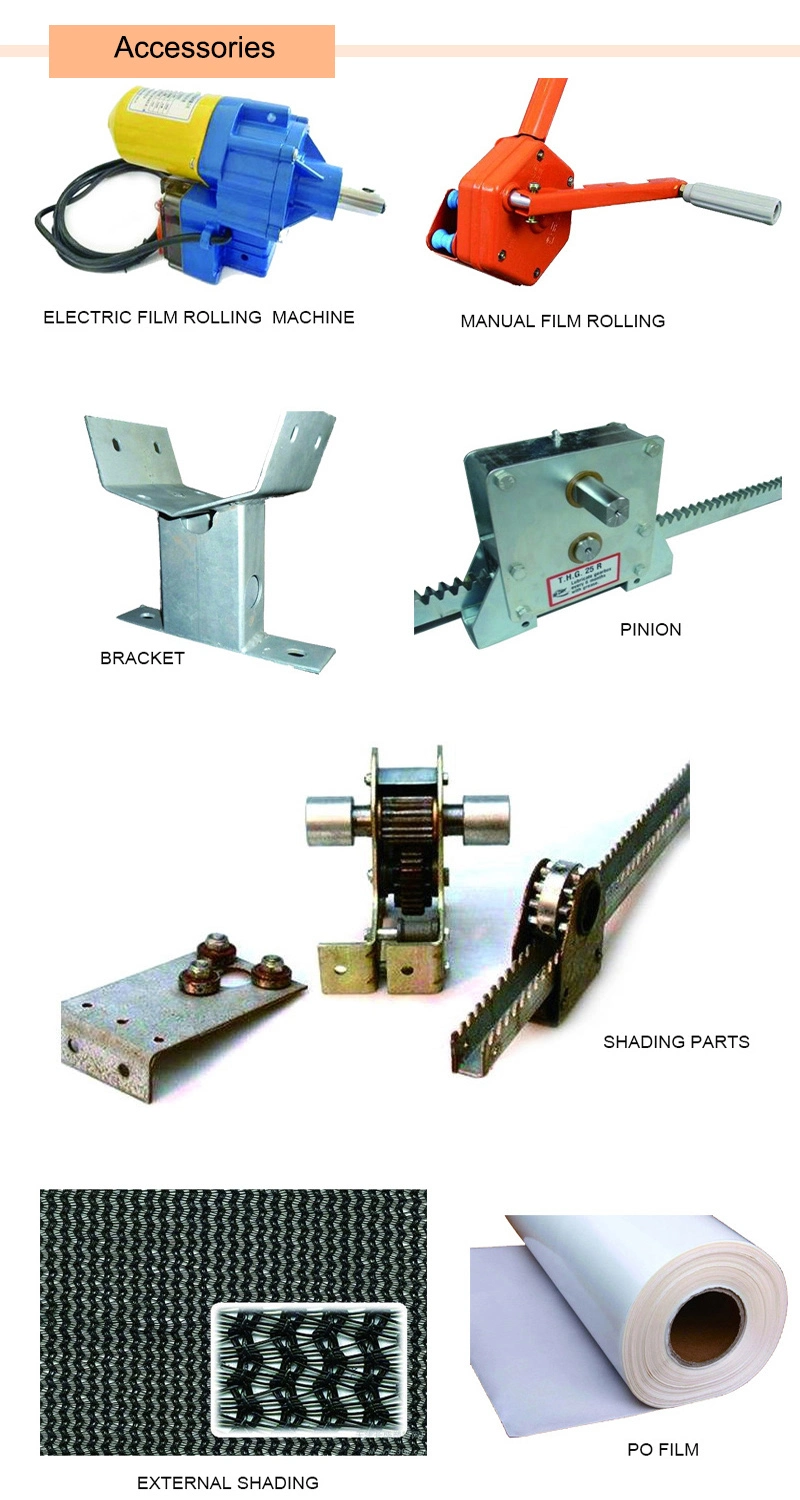 7.FAQ
how to complete order



1. How long is the delivery time?
The delivery time is from 10days to 60 days after getting deposit. It depends on the size of greenhouse.
2. How long is the warranty period?
We will supply free spare parts if any problem occurred in 12 months after installations.
3. Is your company foreign trade company or manufacturer?
We are manufacturer.
4. Can you supply sample?
Small parts can be supplied, but clients should pay the express fee.
5. Can your company supply greenhouse design?
Our company can give greenhouse design according to your land and plant after getting deposit. And we can give simple drawing before signing contract.
6. How to install greenhouse?
We will send our engineers to clients's site for guiding the installations.
Client should hire enough local workers for doing the installation work.
7. When installing, what cost should we pay?
Our engineers' airline tickets, local accommodations, visa fees, etc are taken by the clients.
Our engineers' salary is $100 /day per person.
8. What is the payment terms?
Generally, our payment way is 30%-50% TT deposit, the balance by TT before loading.
Or you can give your own payment term, then we can negotiate it.