1. Julong Agriculture Venlo Type is the A-type roof greenhouse.
Its cover material is glass. It is hot-dip galvanized steel structure.And Multi roofs is one span.The span can be customized. It had beautiful apperance ,good insulation performance ,light transmission,long service time and the other advantages.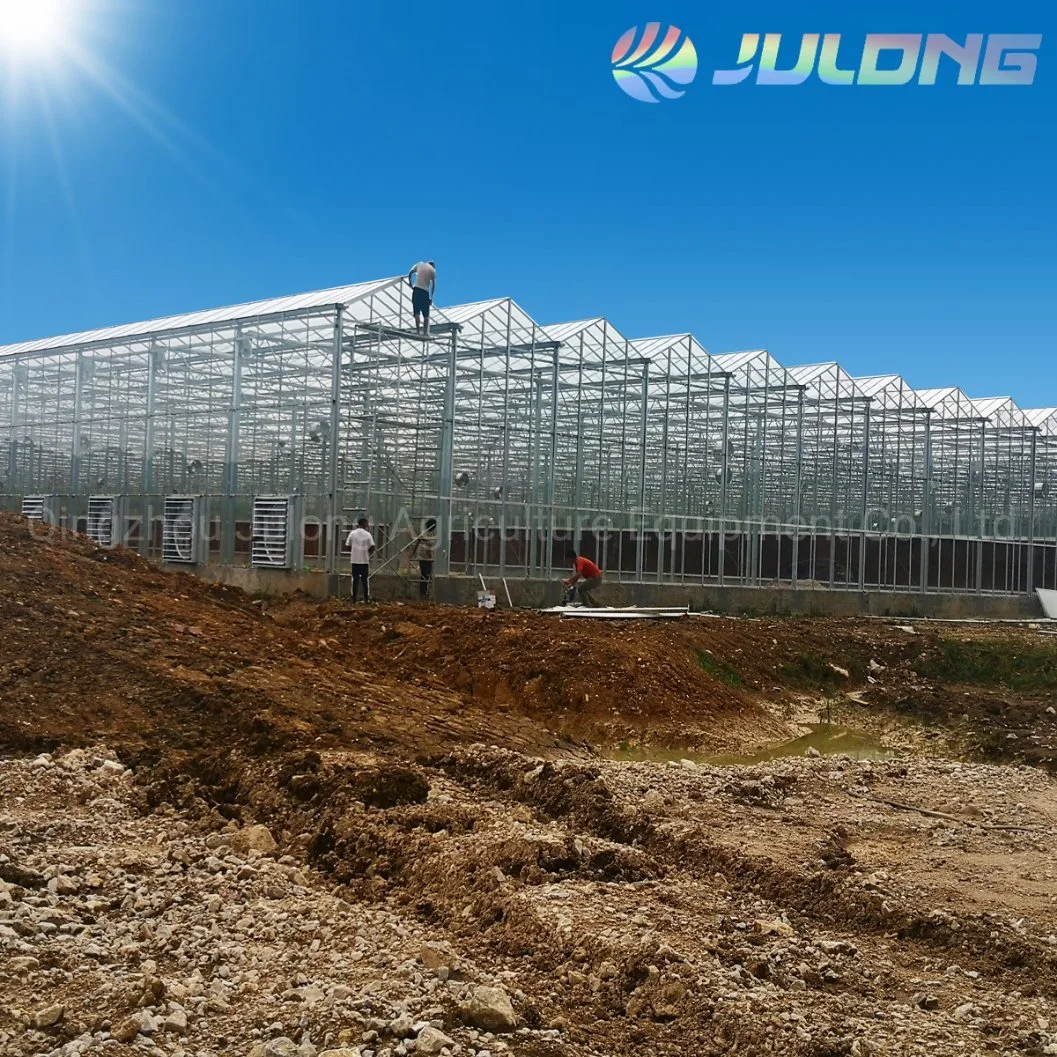 2.Greenhouse Parameters:
| | |
| --- | --- |
| Greenhouse Type | Venlo |
| Cover Material | Glass |
| Glass Thinckness | 4-5mm |
| Eaves Height | 3-6m |
| Structure Material | Hot-dip Galvanized steel pipe |
| Span | 9.6m 10.8m 12m |
| Light Transmisttance Rate | >90% |
| Glass type | Hollow glass,single layer galss |
| Colmun space | 4m 8m |
| Specification | Customization |
| Origin | China |
| Transport Packing | Standard packages contaciner |
| Trademark | Julong Greenhouse |
| Covering material service time | >15years |
| Galss Color | Transparency |

3.Hot sale Greenhouse Feature:
. Great Appearance
. Long service life
. Excellent light transmittance of up to 90%, heat resistance, UV resistance and wear resistance
. Low coefficient of heat expansion and shrinkage
. Large lighting area, Illumination uniformity is better.
· Glass roof glazing provides maximum light transmission
· Low Maintenance Structure
· Natural or fan ventilation available
· Standard and custom widths available
· Available in various heights to accommodate your needs


4.Characteristic of cooling pad :
1.Use the new material and the space crossing linking technology,high absorbability,high water-resistant,anti-mildew and long service life.
2.The product contains surface active agent,natural water absorbability,fast pervasion speed,lasting effectiveness.A drop of water can diffuse in 4-5 seconds.Height of absorb:60-70/minutes,200mm/1.5hours,can achieve international standard.
3.Structure production as per standard,width of 600mm cooling pad involves 85 sheets:raw material adopt imported kraft paper(100GSM,thickness 0.18-0.20mm,tension resistance at 70N,absorbability height as 45mm/min,moisture at 5-8% humidity at 18N)
4.Product don't contain phenol which easy to skin allergy and other chemical substances,when installed non-toxic harmless to human body,safety,energy,saving environmental protection and economic applicable.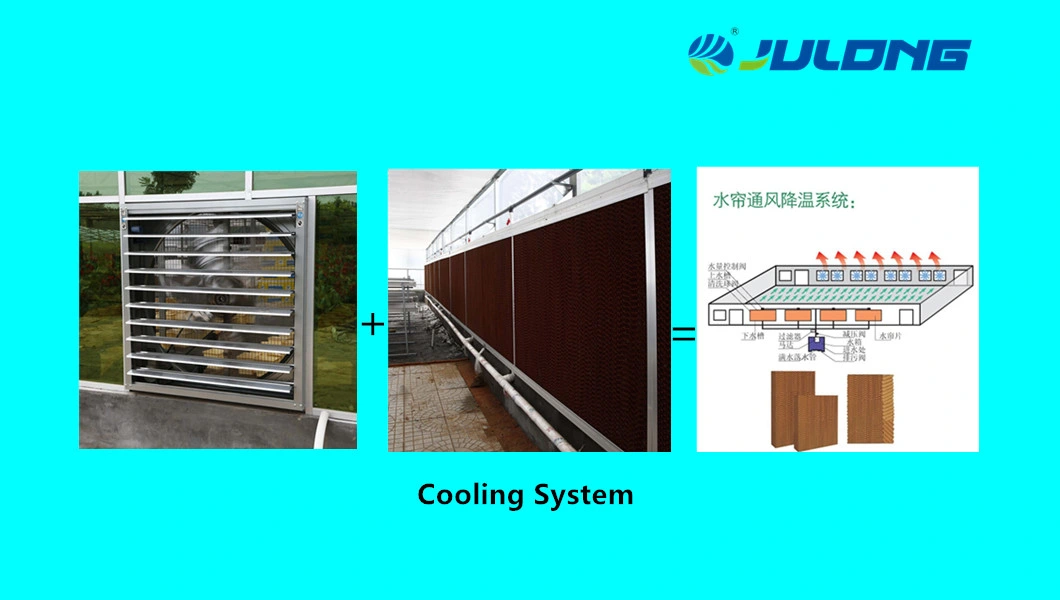 5.Inside Shading System:
Inside shading and heat preservation system in greenhouse. Shading net insulation consists of aluminum foil and polyester woven. Special aluminum foil and polyester to give superior radiation reflection and transmission function, so as to ensure the daytime indoor temperature is low and the energy saving effect is very good, at night, the crop temperature and the surrounding environment temperature is basically equivalent. A good indoor climate conditions to avoid foliar condensation, reduce disease, and reduce the cost of energy.
Drive system using a rack and pinion drive system,
1. The curtain line: support, pressure line for the ф2.2mm diameter polyester thread, tensile strength 270kgf, support line spacing is 0.5m, the pressure line spacing is 1 meters; support, pressure line adopts transparent curtain line, with excellent ageing resistance moisture;
2.Rack and pinion: use the greenhouse special pull screen rack, L=3965mm ,T=2.75mm, reliable quality, stable operation;
3. Transmission shaft: use the national standard 1.0 "hot galvanized steel pipe, the central part of the chain coupling and motor connected, and the rest of the rack, rack spacing 4.0m. The circular motion of the drive shaft is converted into a uniform linear motion through a rack;
4. Push rod: galvanized steel pipe with φ32 x 1.5mm, each rack is connected with 1 columns, and the same direction of the roof; and the pushing rod is connected to the drive rod for special aluminum curtain, transverse along the span direction, to drive the curtain to open and close.
5. The connectors: used hot dip galvanized layer thickness not less than 60um;
6. Motor: use domestic motor, power 0.55Kw, speed ratio 300:1, limit 5-55 turns, the power supply using three-phase common frequency, AC three-phase 380V, frequency 50Hz.
Greenhouse system hoist adopts automatic and manual control mode, along the direction of opening and closing the greenhouse bays, the system has the advantages of simple operation, stable operation;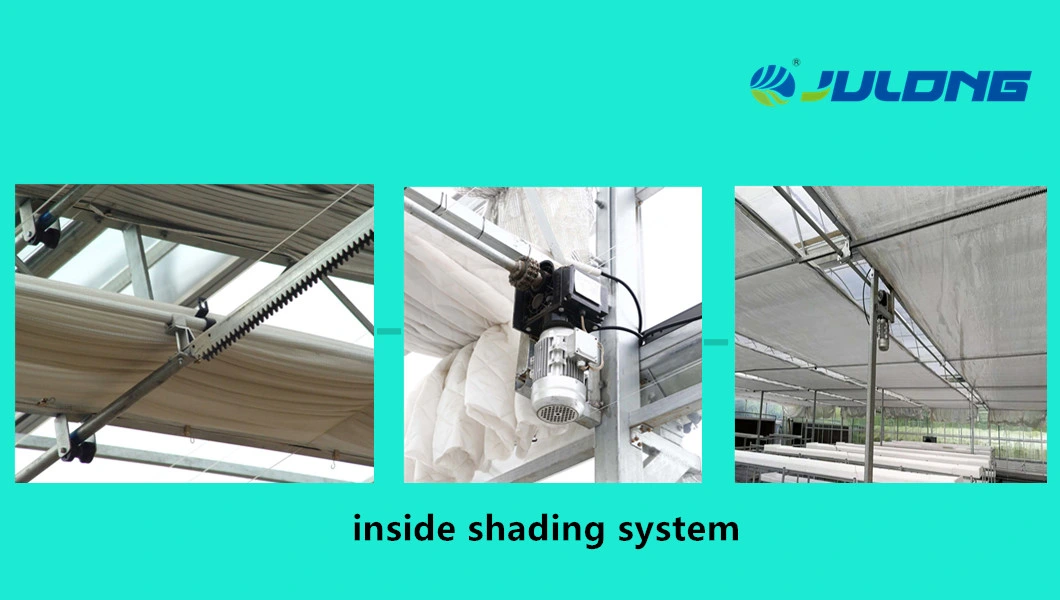 6.Ventilation system:
1. Staggered windowing design is used for the top-vent so as to strengthen convection effect of the air. Opening angle can reach 30°. Apply different opening according to climate difference inside and outside. Ventilated area can take up more than 20% of top surface area of greenhouse.
2. Overall mechanical transmission mode is used for side-vent. It is matched with the top-vent for cooling. Use evasion type or push-pull type side window.
3. The unique window opening outer fly net design can prevent the insect and sundries entering greenhouse and reduce infection on greenhouse crop. Gear and rack transmission mode and electric control are used for the top-vent or side window
Specification of ventilation system
Greenhouse ventilation system can be divided into two kinds of ventilation systems. One is continuous ventilation system. The other is interlacing ventilation system. Both of these two kinds of ventilation systems are now widely used in agricultural planting, sightseeing and entertainment and other fields.
Continuous Ventilation System:
Greenhouse continuous ventilation system is mainly composed by gear motors, driving shaft, continuous ventilation rack and pinion, and bearing plate. The gear motor in this system drives rack rotating through driving shaft. Continuous rack and pinion work together to realize the opening and closing of the whole window.
Interlacing Ventilation System:
Interlacing ventilation system is made of gear motors, driving shaft, interlacing ventilation pinion and rack, bearing plate, ventilation supporting wheel, push rod, push rod joint and other necessary parts. This kind of ventilation system is applied in top window ventilation of Venlo type greenhouse. Because of the interlacing opening of top window, the outside air and the inside air exchanges quickly, which assures the greenhouse always filled with fresh air.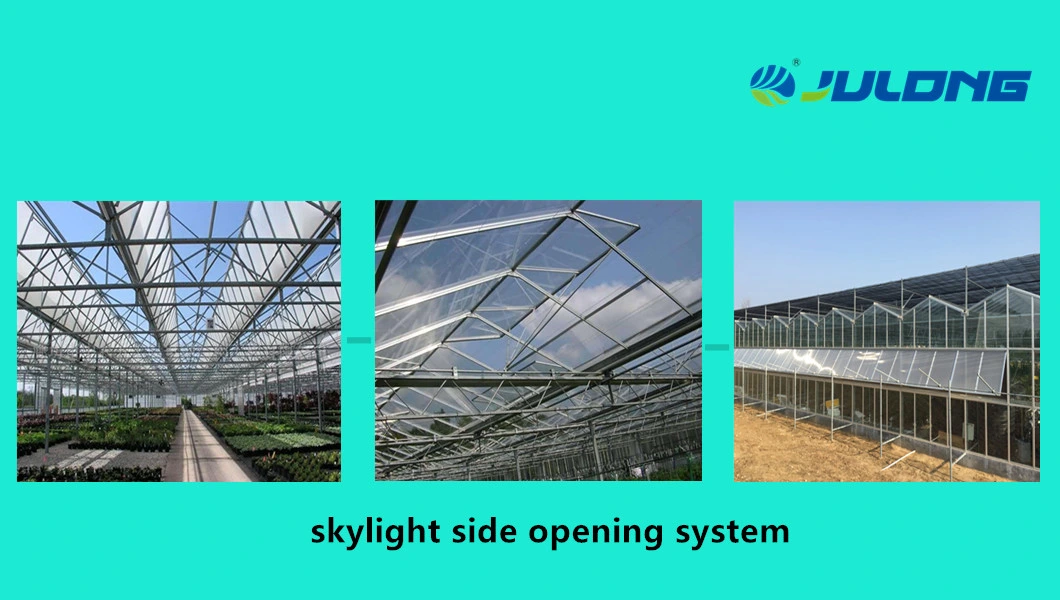 7.Bench System:
The structure is reasonable and operation is flexible. Recipient(plant) bed height is 0.6m. It can be regulated within a certain range. A standard operation channel with width of 55cm can be produced between any two adjacent -benches in horizontal direction. Operation is simple and free. Furthermore, there is the(a) device for preventing turning and spacing.
Material: Hot-galvanized steel pipe is adopted for recipient bed rest(stent graft bed). Angle steel is adopted for bedstead. Aluminum alloy is adopted for the frame. The steel wire mesh is laid on the wound. Hot galvanizing anticorrosion treatment is adopted for mesh surface. The guarantee period is 10 years.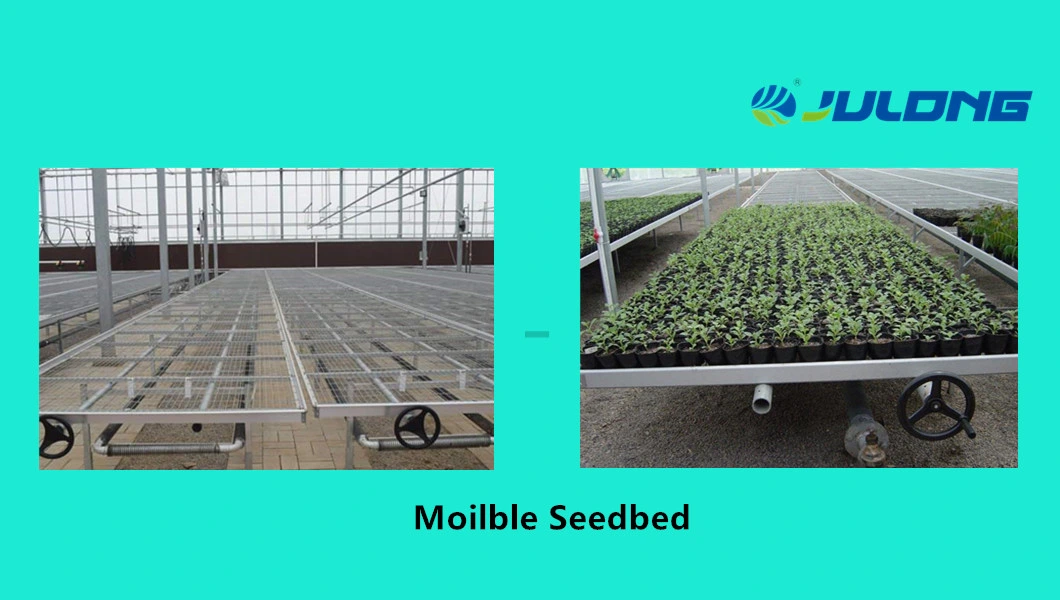 8.Irrigation &Spinklers System:
1. Irrigation and fertilization water treatment system with reasonable design improves absorption function of crops toward fertilizer. Meanwhile, it improves crop quality.
2. It is especially suitable for the area with poor water quality and crop greenhouse which has high requirements for planting water quality.
3. The advanced treatment process is combined with greenhouse production process effectively.
The irrigation system divided into two kinds of main type:
1.Mobile sprinkler irrigation
2.Fixed sprinkler irrigation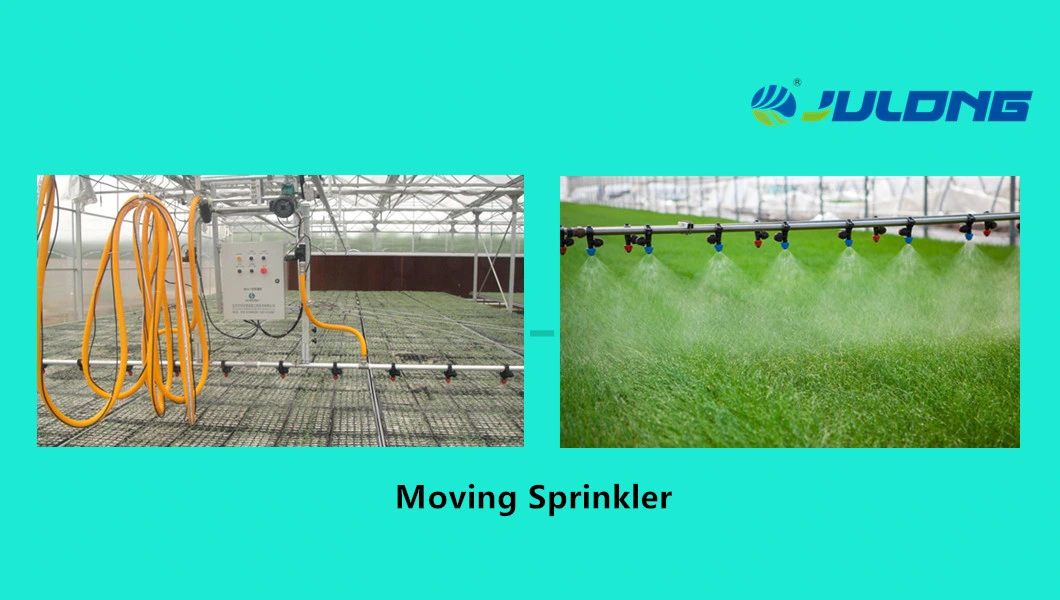 9.Greenhouse Production Workshop:
Julong Agriculture is professional greenhouse equipment manufacturer with 10000 square meters of production base and advanced parduction line. Julong is committed to be China's best greenhouse engineering manufacturer.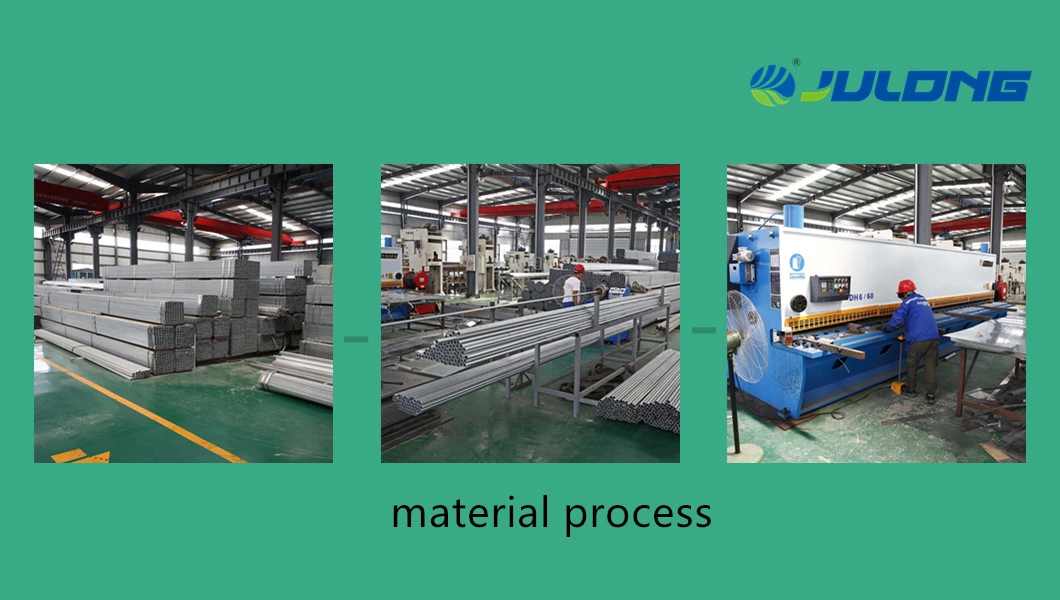 10.Julong Agricultural Greenhouse Materials Show: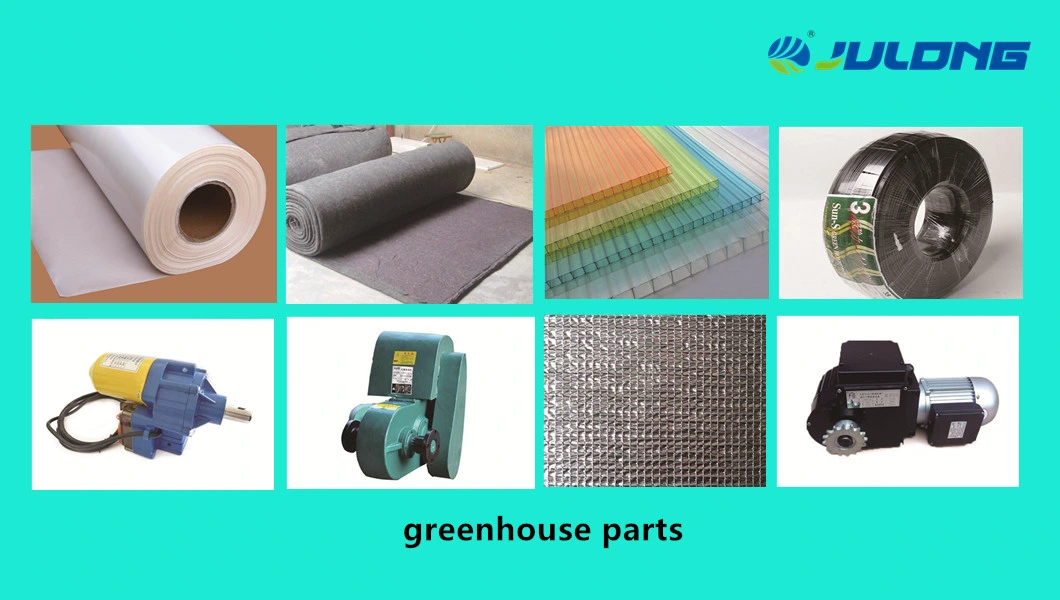 11.JULONG Greenhouse Certificate Show: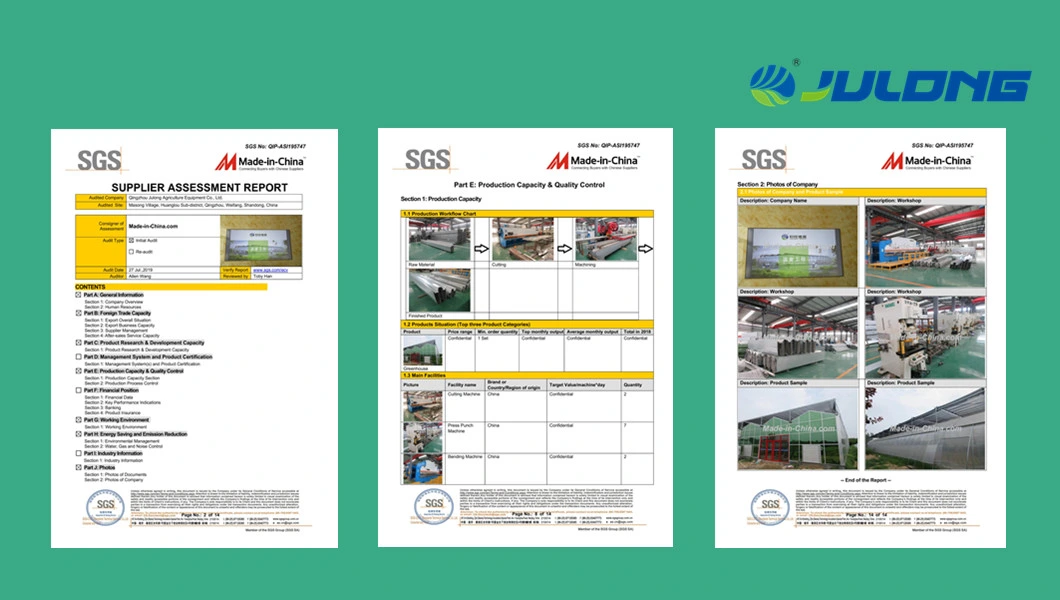 12.Our Service:
* We have our own professional design team and construction team.
* We have more than 20 years working experiences.
* We can provide the design,production,installation and maintenance ,one stop service.Your satisfaction is guaranteed.


13.FAQ:
Q:Are you trading company or manufacturer?
A:We are factory and we also have our trading company.
Q:How long is your delivery time?
A:Generally it is 20-30 days after order.
Q:How to install the greenhouse ?Do you provide the installation service?
A:We will provide paper or video building manual,or if needed we will send engineer to do installation guidance.
Q:What is the export Volume of your company?
A: We have a 240000 tons export per year in the past,with the expansion of the markets,the export volume is growing steady.



14.We are Professional manufacturer in Qingzhou City,Shandong Province,China.
Welcome to visting our factory.