Low Cost Commercial/Agricultural Plastic Film Greenhouse

The film greenhouse is mainly a multi-span greenhouse with film as the covering material. A complete film greenhouse mainly includes the basic part of the greenhouse civil construction, the main hot-dip galvanized steel skeleton, the outer shading hot-dip galvanized steel skeleton, covering materials, outer shading system, inner insulation system, wet curtain-fan cooling system, top and surrounding volumes Membrane window system, sprinkler system, power distribution system, drainage system, etc.
The film greenhouse adopts hot-dip galvanized steel framework, and the top and surroundings adopt double-layer high-insulation long-life drip-free plastic film. It is a simple form of heat preservation and energy saving in the greenhouse. , Seed breeding, flower market, scientific research, teaching, etc.
The film greenhouse has a significant energy saving effect (generally the energy saving rate is about 40%, and the maximum energy saving rate is 57%). The structure is simple and the cost is low. From the operation effect, although the light transmittance of the film greenhouse is lower than the glass greenhouse, because High tightness is also prone to excessive indoor humidity, but the advantages of energy saving in areas with large energy consumption in winter far exceed the above problems.







| | |
| --- | --- |
| Manufactoy | Xinhe Greenhouse |
| Span | 9.6m/12m |
| Gutter height | 4m/6m/8m/10m |
| Wind load | 0.80KN/Sqm |
| Snow load | 0.75KN/Sqm |
| Greenhouse column | 30 years |
| Greenhouse accessory | 10 years |
| Inside shadow system | 5 years |
| Outside shadow system | 5 years |
| Inside heat-insulation system | 5 years |
| Exhust fan | 6 years |
| Cooling pad | 4 years |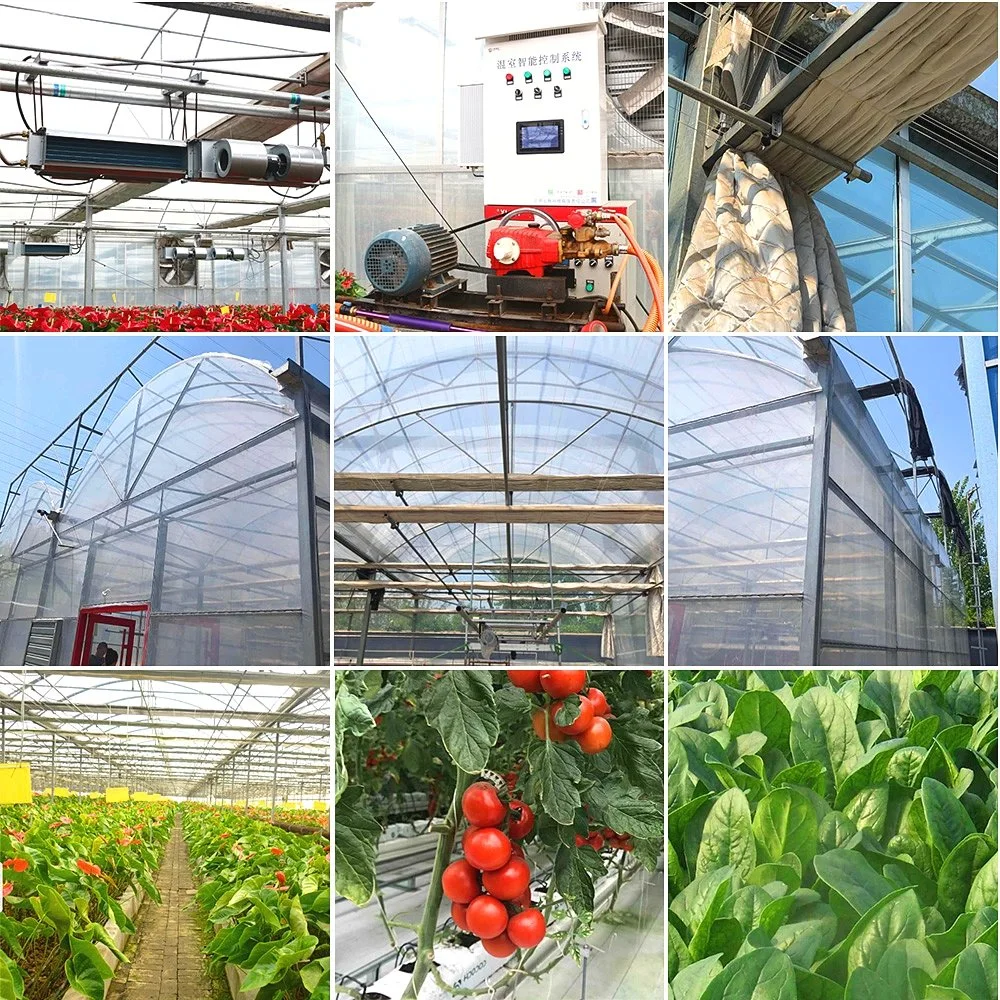 | | |
| --- | --- |
| Cooling system | Cooling fan and cooling pad |
| Shading system | Outside shading and inside shading system (It is better to reduce sunlight and temperature.) |
| Ventilation system | Roof vents and side vents. |
| Hydroponic system | Applicable to leaf vegetables and fruit planting |
| Heating system | Boiler and heating fan |
| Irrigation system | Drip irrigation/sprinkle irrigation/mist spray |
| Other system | Light system/Seedbed/CO2 system |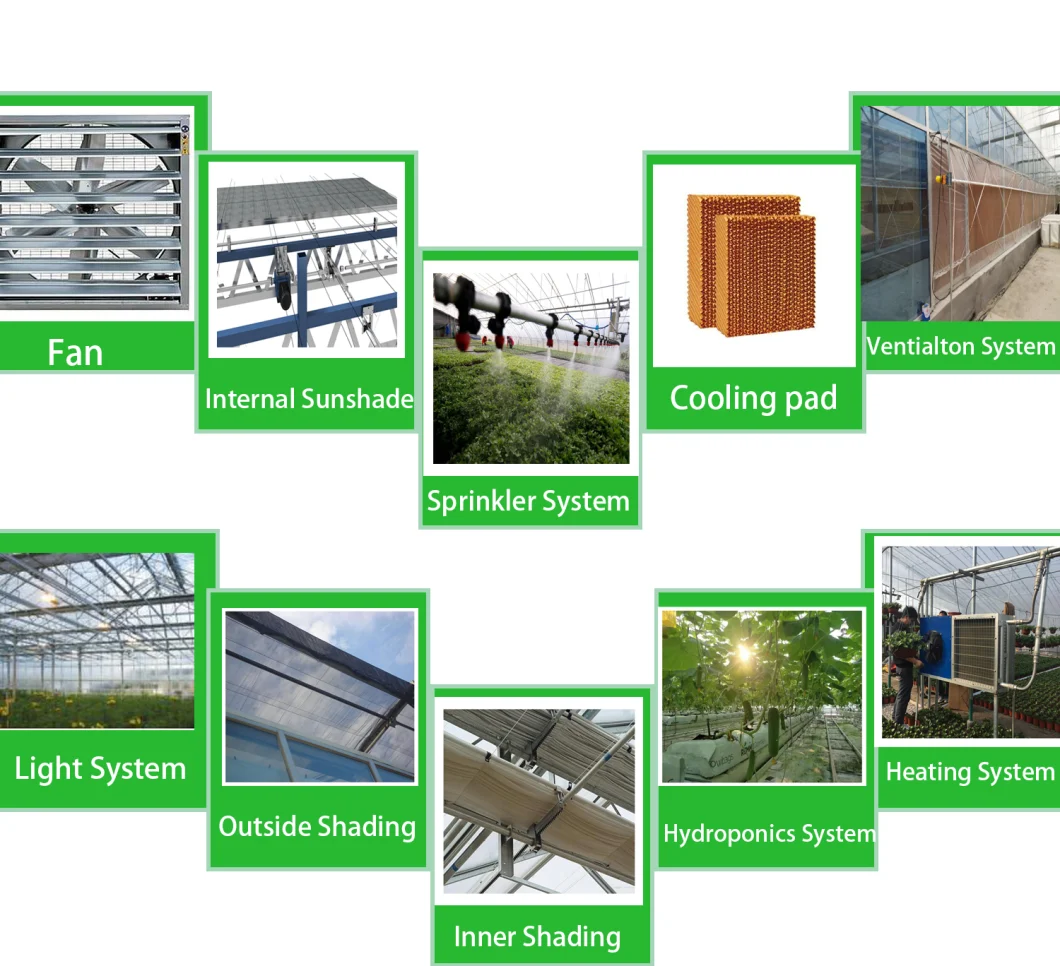 Qingzhou XinHe Greenhouse co, LTD is a professional company in greenhouse designing, manufacturing and construction The major products include floral greenhouses, planting greenhouses, aquatic greenhouses, livestock greenhouses, ecological greenhouses, glasshouses, spherical greenhouses, sunlight-plate greenhouses, plastic greenhouses and corresponding accessories. The main product line covers greenhouse with framework span of 8m, 9.6m, 10.8m, 12m, 16m and 18m. Additionally, the high-ridge, long-span and opening spacing greenhouses specially designed for ecological dinner are also available. The elegant and exquisite ecological dinner ranges from 9.6-16 meters deep, 6-10 meters high and 6-8 meters wide so that the inside view is pretty spacious and bright. Customized products can be tailored to clients special requirements such as interior and exterior shading system, structural accessories and etc.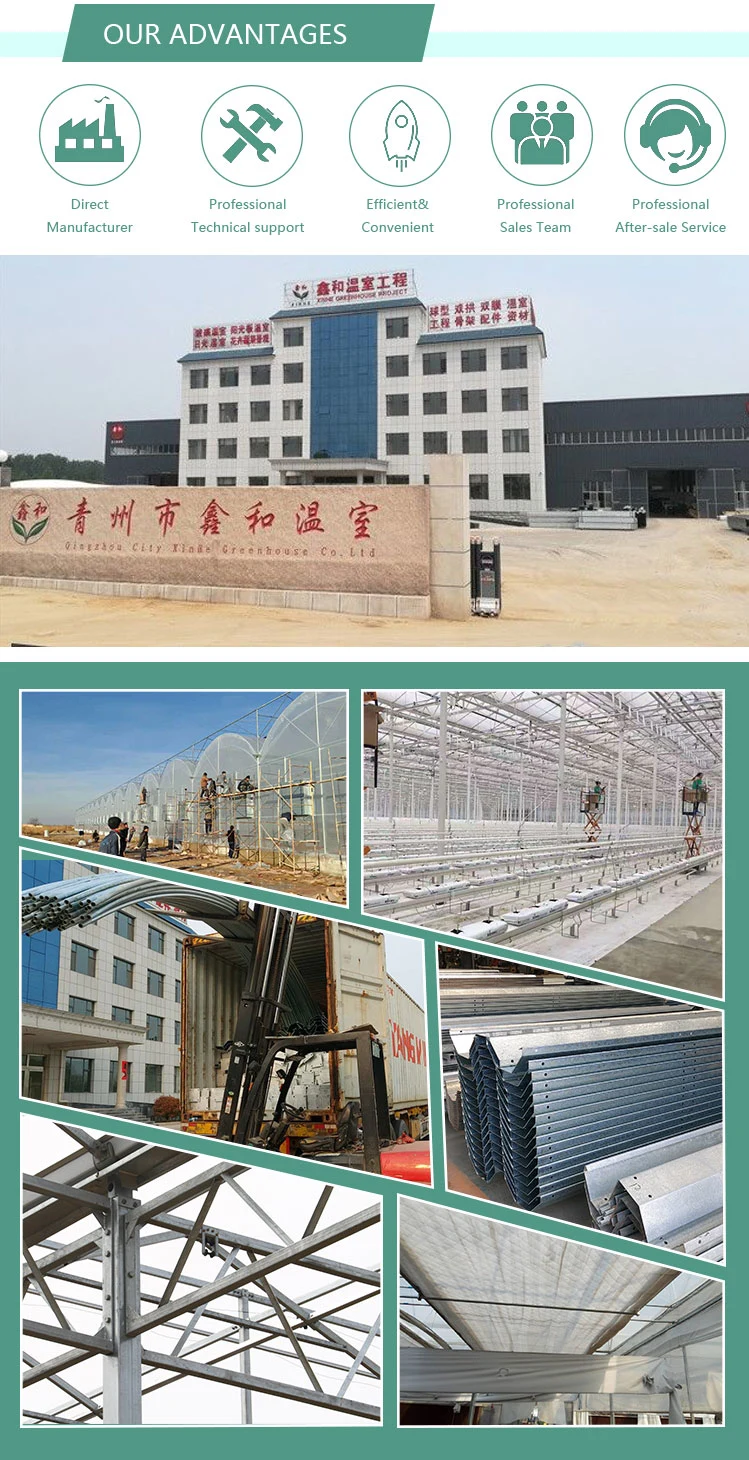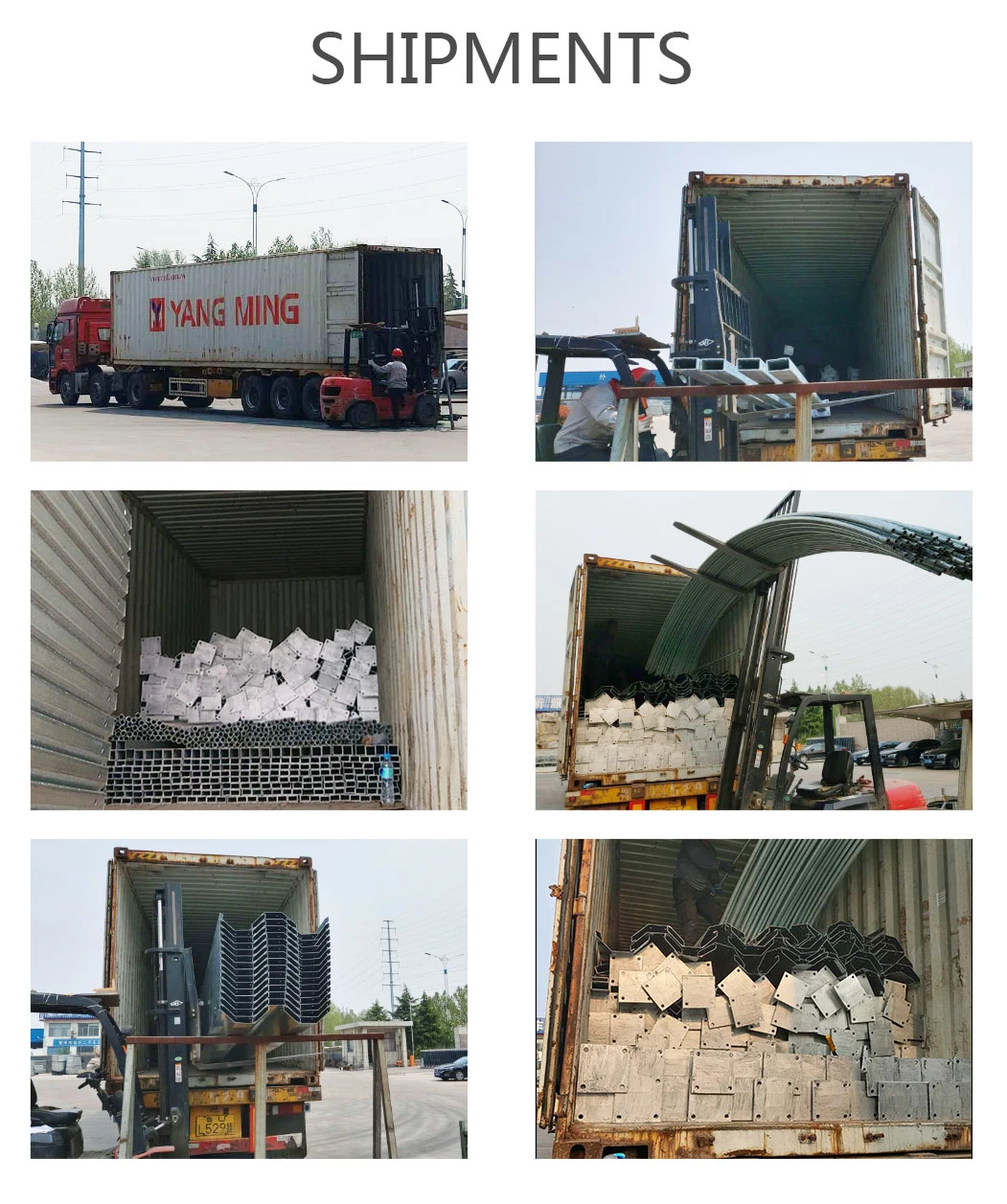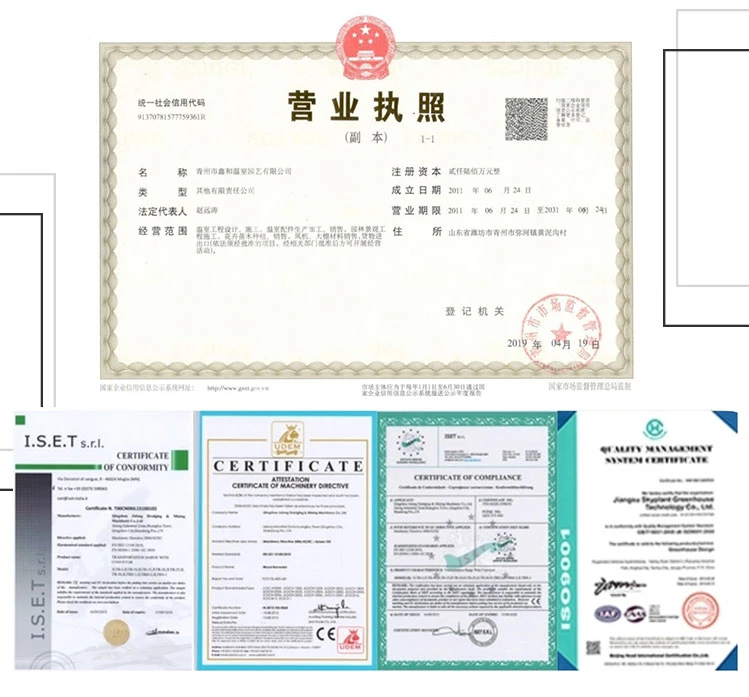 Q: As we have different type equipments, please indicate following details in your inquiry email.
A: (1) The specific area (L*W)
(2) Product usage/system type
(3) The requiement of covering, structure,material, temperature, humidity and light intensity. These are very important for providing you a complete solution.
Q:What is the minimum order quantity?
A:The minimum order quantity is 1000 square meters.But if below 1000 square meters,we also can produce it.The price is adjusted according to the quantity of order.
Q: Are you a manufacturer or trading company?
A: We are a manufacturer, and produce these equipment that has more than ten years of experience All you are warmly welcomed to visit us!
Q:How are the goods packed?
A:The sun PC board is packed in cartons. The skeleton is in bulk and the parts are packed in a package. We can also pack the goods according to the customers' requirements.
Q. What is the basic configuration of a greenhouse?
A: A greenhouse is equipped with the steel frame, inner shading system, external shading system, wet curtain, blower, roof ventilation, side ventilation.