Automatic Agriculture Building Commercial Farming Polycarbonate Sheet Greenhouse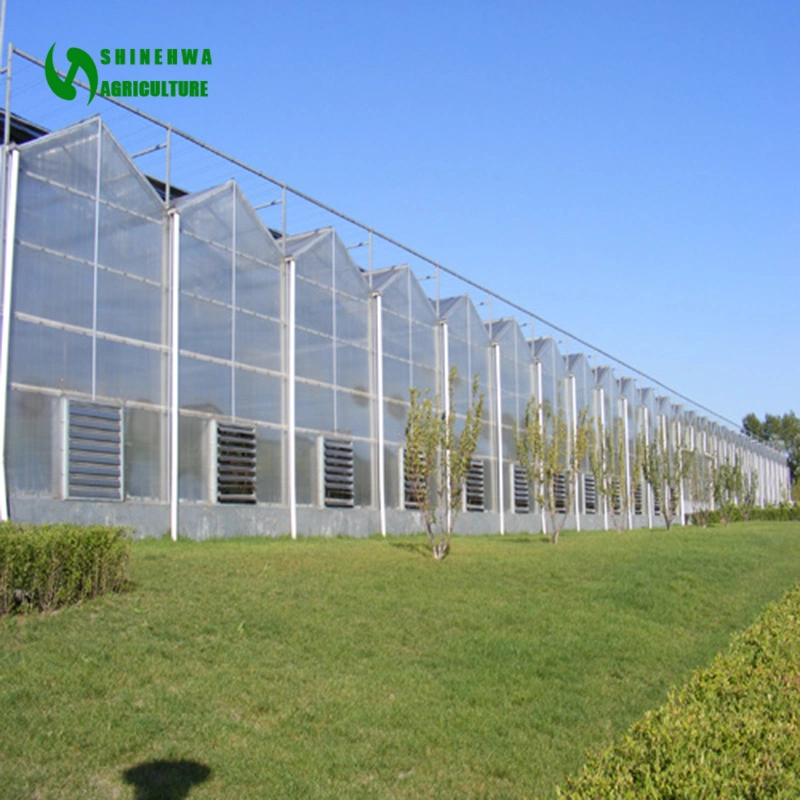 Polycarbonate (PC) Greenhouse Abstract
The polycarbonate (PC) greenhouse is preferred Venlo type (also can use circular arch type), using a multi span roof, with shape of modern, stable structure, beautiful form, smooth version, remarkable thermal insulation performance, moderate light transmission rate, many rainy grooves, large span, drainage volume, strong wind resistance ability, suitable for area of big wind and rainfall. PC greenhouse has good light transmittance, low heat conduction coefficient. The polycarbonate sheet, light, long service life, tensile strength, through simple steel structure it will be able to meet the requirements of anti-wind and snow, and it has long service life, beautiful appearance and can reduce the repeated construction and investment, so it is first choice currently instead of the plastic film greenhouse and glass greenhouse.
Polycarbonate (PC) Greenhouse Application

1.planting vegetable, for example, tomato, cucumber, peper, chilli, leaf vegetable, etc.

2.planting flower.

3.planting fruits.

4.soilless culture.

5.agriculture trial.

6.as restaurant

7.for sightseeing
Polycarbonate (PC) Greenhouse Composition
1.

steel structure
11 irrigation and fertilization system
13.ight compensating system 14 seedling bed system
PC Greenhouse Detailed Images




Greenhouse steel structure
Hot Drip Galvanized Steel Structure
The steel structure is made of high quality carbon steel with inside and outside hot galvanized layer which will be not less than 60um.

Most connections of greenhouse structure are installed directly by screws or Self tapping screws.

The warranty period of standard skeleton is 15 years, but the actual service life will be more than 20 years.
Cover Materials
Roof Cover Material:Poycarbonate sheet
Side Cover Material:H

ollow twin-wall polycarbonate sheet (PC)



Advantage:Good transmittance to make large day lighting areas, even indoor light with beautiful appearance and long life.
Material:
Black Round-Wire Sunshade Net
Introduction:
Installed and fixed above the frame of greenhouse, supported by the uprights and beams.
Advantage:
Button control switch, reduce the internal temperature and avoid damages to plants caused by intense sunlight.
Material:

Aluminum Sunshade Net

Introduction: Installed in the greenhouse, supported by the uprights and beams.

Advantage: Button control switch, reduce the internal temperature by cutting off excess solar radiation.
Cooling Fan
Introduction:
The pads and fans are used together to realize the functions of cooling and ventilation.

Size:Exhaust Hammer Fans in 1380*1380*400mm with wind volume 44000m3/h

Advantage: In hot weather, using cool water circulation could reduce temperature and increase humidity inside the greenhouse at same time.
Introduction:
The pads and fans are used together to realize the functions of cooling and ventilation.

Size: Aluminum frame, height is 1.5m with thickness 150mm

Advantage: In hot weather, using cool water circulation could reduce temperature and increase humidity inside the greenhouse at same time.
Heating system water boiler
Boiler equipment includes boiler body, chimney, computer control box, maintenance-free water pump, soot processor, water collector, water separator, check valve, opening and closing valves, pipes, pipe valves, instruments and so on.


Forced ventilation





1. Fan-pad cooling system




The cooling fans of cooling system can be used for forced ventilation. If open the cooling pad, it can achieve the cooling effect; if close the cooling pad, it can exchange warm and cold air inside and outside the greenhouse .




2. Internal air circulation system


In order to increase the flow rate of air in the greenhouse, to improve air uniformity, increase the uniformity of humidity, set up the internal circulation system. The system use China-made high-quality dedicated internal circulation fan, each span

2 sets.





Fill light system





LED compensating lights




Greenhouse artificial light is

used for achieving

the needs of plants on the light

, through

install

ing

greenhouse light

compensating

system to improve the greenhouse light intensity or extend the light time. In general, the greenhouse

light compensating

system includes light

ing

equipment, circuits and control system.




With the development of LED technology, as a new type of green energy-saving light source, LED used in greenhouse production, with unparalleled advantages

than

incandescent, fluorescent

,

high pressure sodium lamps






Irrigation system





The drip irrigation system consists of main water supply pipe, branch pipe and drip arrows.




The drip irrigation has advantages as followings:




1

.

Under the condition of drip irrigation, higher effective water utilization, irrigation water wets the soil surface, which can effectively reduce soil moisture evaporation.




2.

Prevent the growth of weeds. Drip irrigation system does not produce surface runoff, and easy to grasp the precise

of

water depth, saving much water.






Electric Control System





The electric control system is used for control all the mechanical equipment installed in the greenhouse to realize the greenhouse microclimate control.




The system includes one set of control cabinet, cablesand accessories and tools.




It can realize the automatical control of water heaters and cooling system to save energy.
NFT Hydroponics belongs to one kind of nutrient solution hydroponics by using PVC pipes which is more suitable for leaf vegetables cultivation.
All pipes and pipe fittings are made by high quality PVC in food grade, very safe and non-polluting, without any damage to plants. The shelf and pipes sizes can be customized according to the actual needs.
Seedbed is also called nursery bed, nursery bench, seedling bed, etc.
The seedbed application is:
1. planting flowers
2. germinating grow
3. planting vegetable
4. hydroponics
Automatic Water And Fertilizer Machine
1) Agriculture greenhouse drip irrigation system
2) Agricultural greenhouse sprinkling irrigation system
3) Flower greenhouse irrigation system
4) Seeding greenhouse irrigation system
5) Fruit & vegetables greenhouse irrigation system

Our Factory



Our company is located in Qingzhou City, Shandong province, cover an area of 7000 square meters, which possesses register capital RMB3,000,000.00, more than 50 stuffs, and which is a high-tech enterprise in the integration of product research and development, process design, manufacturing, installation, sales and after-sales. The company study and introduce domestic and foreign advanced scientific and technological achievements continuously to supply high-efficiency, save-energy and environmental products and solution.
The company's main scope of business includes: building and installation of glass greenhouse, PC greenhouse, film greenhouse, solar energy greenhouse, sunlight greenhouse; production and sales of greenhouse parts; building light steel structure; design, plan and building of garden and park and inner greenhouse; research and promotion of hydroponic vegetable; research and promotion of other agricultural technology and eco-agriculture.



Package and Delivery




FAQ

1. How long is the delivery time?
According to your greenhouse size and system, the delivery time is usually 10-60days.
2. How long is the warranty period?
Different parts have different warranty, usually the electric machine guarantee 1 year, the steel structure 5years, glass 1 year, sunshade net 2-3years, etc.
3. Is your compay foreign trade company or manufacturer?
we are manufacturer.
4. Can you supply sample?
Small parts can be supplied, but you should pay the express.
5. Can your company supply greenhouse design?
Our company can give greenhouse design according to your land and plan after deposit. And we can give simple drawing before signing contract.
6. How to intall greenhouse
First we prepare the material and export.
After your customs clearing, we send 2-4 engineers or all workers to guide to install.
If you want to save money, we only send engineers, and you match local workers. If you think it is hard to do, we also can send engineers and workers to install for you.
7. When installing, what cost should we pay?
our engineers and workers visas and round-trip tickets, their foods and accommodation, their communication
8. What is the payment terms?
usually the deposit is 30%-50% of total value. Before loading, all the balance shoulde be paid off. Or you can give your own payment terms, then we can negotiate it.